Inicio de la vía oral en el período posoperatorio de la cirugía gastrointestinal: preferencias del paciente
Palabras clave:
Métodos de alimentación, Cuidados posoperatorios, Procedimiento quirúrgico del sistema digestivo
Resumen
El inicio temprano de la vía oral en el período posoperatorio de la cirugía gastrointestinal ha demostrado ser factible y benéfico; sin embargo, los pacientes siguen teniendo ayunos prolongados. El objetivo de este estudio fue conocer las preferencias alimentarias de los pacientes en el período posoperatorio inmediato de la cirugía gastrointestinal, además de evaluar lo que ocurre en la práctica clínica con el inicio de la vía oral después de una cirugía gastrointestinal.
Descargas
Los datos de descargas todavía no están disponibles.
Citas
Cárdenas D, Bermúdez C, Pérez A, Diaz G, Cortés LY, Contreras CP, et al. Are traditional screening tools adequate for monitoring the nutrition risk of in-hospital patients? An analysis of the nutritionDay database. J Parenter Enteral Nutr. 2022;46(1):83-92. doi: 10.1002/jpen.2085.
Weimann A, Braga M, Carli F, Higashiguchi T, Hübner M, Klek S, et al. ESPEN guideline: Clinical nutrition in surgery. Clin Nutr. 2017;36(3):623-50. doi: 10.1016/j.clnu.2017.02.013.
Lobo DN, Gianotti L, Adiamah A, Barazzoni R, Deutz NEP, Dhatariya K, et al. Perioperative nutrition: Recommendations from the ESPEN expert group. Clin Nutr. 2020;39(11):3211-27. doi: 10.1016/j.clnu.2020.03.038.
Herbert G, Perry R, Andersen HK, Atkinson C, Penfold C, Lewis SJ, et al. Early enteral nutrition within 24 hours of lower gastrointestinal surgery versus later commencement for length of hospital stay and postoperative complications. Cochrane Database Syst Rev. 2019;2019(7). doi: 10.1002/14651858.CD004080.pub4.
Fujii T, Morita H, Sutoh T, Yajima R, Yamaguchi S, Tsutsumi S, et al. Benefit of oral feeding as early as one day after elective surgery for colorectal cancer: Oral feeding on first versus second postoperative day. Int Surg. 2014;99(3):211-5. doi: 10.9738/INTSURG-D-13-00146.1.
Nematihonar B, Yazdani A, Falahinejadghajari R, Mirkheshti A. Early postoperative oral feeding shortens first time of bowel evacuation and prevents long term hospital stay in patients undergoing elective small intestine anastomosis. Gastroenterol Hepatol from Bed to Bench. 2019;12(1):25-30.
Bisgaard T, Kehlet H. Early oral feeding after elective abdominal surgery-what are the issues? Nutrition. 2002;18(11-12):944-8. doi: 10.1016/s0899-9007(02)00990-5.
Charoenkwan K, Matovinovic E. Early versus delayed oral fluids and food for reducing complications after major abdominal gynaecologic surgery. Cochrane Database Syst Rev. 2014;2014(12). doi: 10.1002/14651858.CD004508.pub4.
Pragatheeswarane M, Muthukumarassamy R, Kadambari D, Kate V. Early oral feeding vs. traditional feeding in patients undergoing elective open bowel surgery-a randomized controlled trial. J Gastrointest Surg. 2014;18(5):1017-23. doi: 10.1007/s11605-014-2489-1.
Klappenbach RF, Yazyi FJ, Alonso Quintas F, Horna ME, Alvarez Rodríguez J, Oría A. Early oral feeding versus traditional postoperative care after abdominal emergency surgery: A randomized controlled trial. World J Surg. 2013;37(10):2293-9. doi: 10.1007/s00268-013-2143-1.
Rattray M, Roberts S, Marshall A, Desbrow B. A systematic review of feeding practices among postoperative patients: Is practice in-line with evidenced-based guidelines? J Hum Nutr Diet. 2018;31(2):151-67. doi: 10.1111/jhn.12486.
Gustafsson UO, Scott MJ, Hubner M, Nygren J, Demartines N, Francis N, et al. Guidelines for perioperative care in elective colorectal surgery: Enhanced Recovery After Surgery (ERAS®) Society recommendations: 2018. World J Surg 2019;43(3):659-95. doi: 10.1007/s00268-018-4844-y.
Sun DL, Li WM, Li SM, Cen YY, Xu QW, Li YJ, et al. Comparison of multi-modal early oral nutrition for the tolerance of oral nutrition with conventional care after major abdominal surgery: A prospective, randomized, single-blind trial. Nutr J. 2017;16(1):11. doi: 10.1186/s12937-017-0228-7.
Reddy B, Reddy N. Strategies to improve tolerance to peri-operative enteral feeding. J Med Allied Sci. 2016;6(1):3. doi: 10.5455/jmas.210556.
Hancock S, Cresci G, Martindale R. The clear liquid diet: when is it appropriate? Curr Gastroenterol Rep. 2002;4(4):324-31. doi: 10.1007/s11894-002-0083-2.
Lassen K, Kjæve J, Fetveit T, Tranø G, Sigurdsson HK, Horn A, et al. Allowing normal food at will after major upper gastrointestinal surgery does not increase morbidity: A randomized multicenter trial. Ann Surg. 2008;247(5):721-9. doi: 10.1097/SLA.0b013e31815cca68.
Osland E, Yunus RM, Khan S, Memon MA. Early versus traditional postoperative feeding in patients undergoing resectional gastrointestinal surgery: A meta-analysis. J Parenter Enter Nutr. 2011;35(4):473-87. doi: 10.1177/0148607110385698.
Terashima M. The earlier the better? Gastric Cancer. 2014;17(2):197-9. doi: 10.1007/s10120-013-0287-1.
Toulson Davisson Correia MI, Costa Fonseca P, Machado Cruz GA. Perioperative nutritional management of patients undergoing laparotomy. Nutr Hosp. 2009 Jul-Aug;24(4):479-84.
Fanaie SA, Ziaee SA. Safety of early oral feeding after gastrointestinal anastomosis: A randomized clinical trial. Indian J Surg. 2005;67(4):185-8.
Azhrafi A, Pochin R. Nil by mouth' post gastrointestinal surgery--is there any evidence? NZMJ. 2006;119(2):1243.
Varadhan KK, Neal KR, Dejong CHC, Fearon KCH, Ljungqvist O, Lobo DN. The enhanced recovery after surgery (ERAS) pathway for patients undergoing major elective open colorectal surgery: A meta-analysis of randomized controlled trials q. Clin Nutr. 2010;29(4):434–40. doi: 10.1016/j.clnu.2010.01.004.
Gianotti L, Nespoli L, Torselli L, Panelli M, Nespoli A. Safety, feasibility, and tolerance of early oral feeding after colorectal resection outside an enhanced recovery after surgery (ERAS) program. Int J Colorectal Dis. 2011;26(6):747-53. doi: 10.1007/s00384-011-1138-3.
Jiang Z, Chen QC, Zhang JH, Cao LX, Chen ZQ. Effect of early oral feeding on gastrointestinal motility in patients undergoing colorectal resection: A meta-analysis of randomized clinical trials. Dig Med Res. 2019;2:17-17. doi: 10.21037/dmr.2019.07.01
Vaishnani B, Bhatt J, Singh R, Juneja I. A Prospective comparative study of early versus traditional oral feeding after GI surgeries. Int J Res Med. 2016;5(1);28-31.
Sierzega M, Choruz R, Pietruszka S, Kulig P, Kolodziejczyk P, Kulig J. Feasibility and outcomes of early oral feeding after total gastrectomy for cancer. J Gastrointest Surg. 2015;19(3):473-9. doi: 10.1007/s11605-014-2720-0.
Kumar M, Malhotra P, Mahajan P, Gupta A. To compare the safety, benefits, and incidence of postoperative complications among patients having early oral feeding versus traditional feeding in postoperative period following elective intestinal anastomosis. Saudi Surg J. 2015;3(2):33.
Willcutts KF, Chung MC, Erenberg CL, Finn KL, Schirmer BD, Byham-Gray LD. Early oral feeding as compared with traditional timing of oral feeding after upper gastrointestinal surgery. Ann Surg. 2016;264(1):54-63. doi: 10.1097/SLA.0000000000001644.
Conchin S, Muirhead R, Ferrie S, Carey S. Can't we just let them eat? Defining and addressing under-use of the oral route in a post-surgical ward. Asia Pac J Clin Nutr. 2013;22(2):200-5. doi: 10.6133/apjcn.2013.22.2.12.
Kawamura YJ, Kuwahara Y, Mizokami K, Sasaki J, Tan KY, Tsujinaka S, et al. Patient's appetite is a good indicator for postoperative feeding: A proposal for individualized postoperative feeding after surgery for colon cancer. Int J Colorectal Dis. 2010;25(2):239-43. doi: 10.1007/s00384-009-0802-3.
Gustafsson UO, Tiefenthal M, Thorell A, Ljungqvist O, Nygrens J. Laparoscopic-assisted and open high anterior resection within an ERAS protocol. World J Surg. 2012 May;36(5):1154-61. doi: 10.1007/s00268-012-1519-y.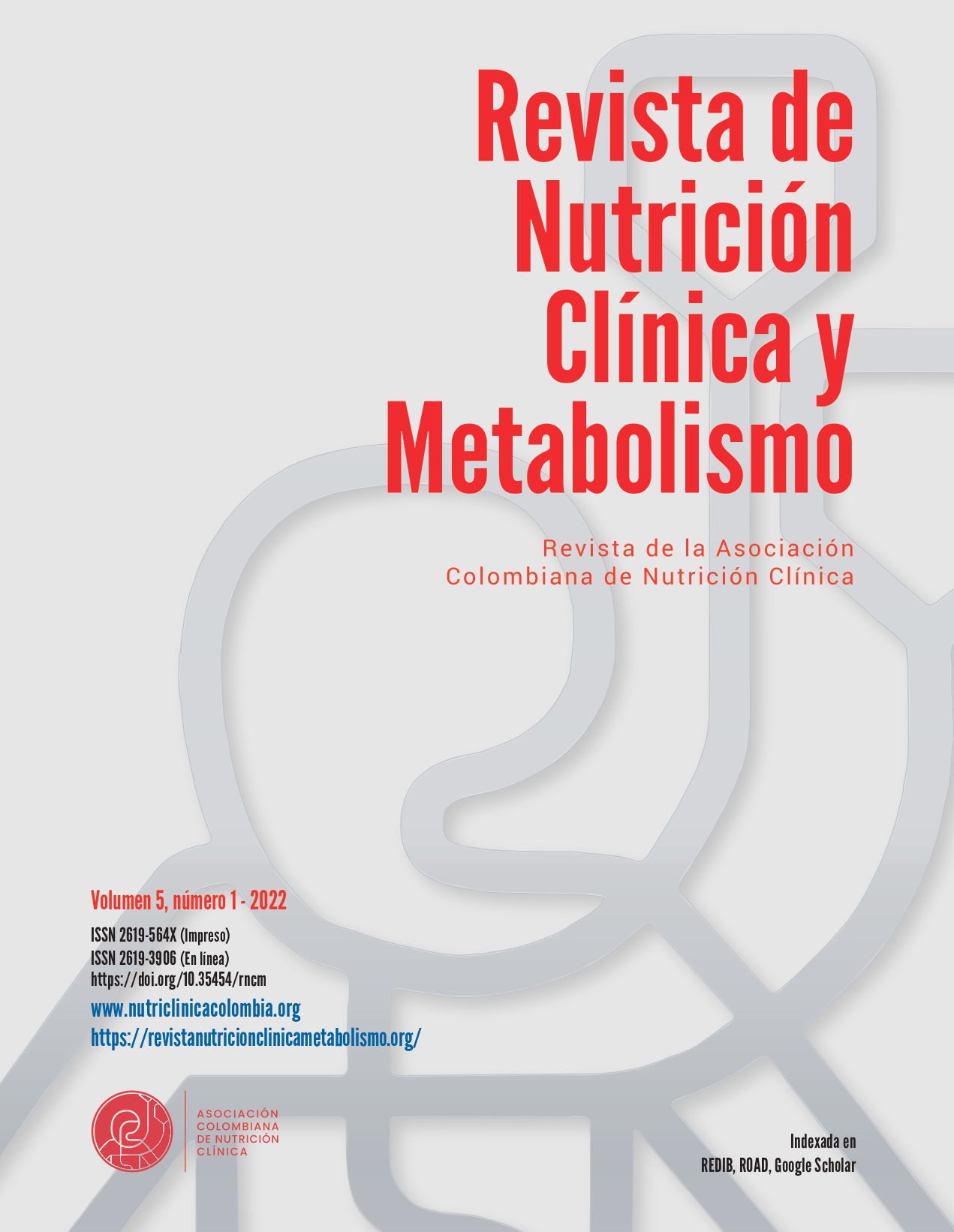 Cómo citar
Navas, Ángela, González, L., González, D., Barrios, A., & Mendivelso, F. (2022). Inicio de la vía oral en el período posoperatorio de la cirugía gastrointestinal: preferencias del paciente. Revista De Nutrición Clínica Y Metabolismo, 5(1). https://doi.org/10.35454/rncm.v5n1.340
Sección
Artículo original
Licencia
Derechos de autor 2022 Fredy Mendivelso, Ángela Maria Navas Camacho
Esta obra está bajo una licencia internacional Creative Commons Atribución-NoComercial-CompartirIgual 4.0.