Indicaciones poco frecuentes de nutrición parenteral: una revisión de la literatura
Palabras clave:
Nutrición Parenteral, Soporte Nutricional, Enterocolitis Neutropénica, Enfermedades Esofágicas, Enfermedades Gastrointestinales
Resumen
La evolución en la nutrición parenteral en las últimas décadas ha permitido considerarla como una estrategia terapéutica segura y eficaz ante entidades clínicas que condicionan disfunción del tracto gastrointestinal y que se han asociado con períodos prolongados de ayuno, escasa ingesta o intolerancia a la nutrición enteral que ocasiona desnutrición secundaria, esto conlleva un mayor riesgo de deterioro de la función inmunológica sistémica e intestinal, así como una disminución de la absorción y motilidad intestinal y
la alteración de la barrera intestinal.
Descargas
Los datos de descargas todavía no están disponibles.
Citas
Stratton RJ, Elia M. Who benefits from nutritional support: what is the evidence? Eur J Gastroenterol Hepatol. 2007;19(5):353-8. doi: 10.1097/MEG.0b013e32801055c0
McClave SA, Taylor BE, Martindale RG, Warren MM, Johnson DR, Braunschweig C, et al. Guidelines for the Provision and Assessment of Nutrition Support Therapy in the Adult Critically Ill Patient: Society of Critical Care Medicine (SCCM) and American Society for Parenteral and Enteral Nutrition (A.S.P.E.N.). JPEN J Parenter Enteral Nutr. 2016;40(2):159-211. doi: 10.1177/0148607115621863
Dudrick SJ, Wilmore DW, Vars HM, Rhoads JE. Long-term total parenteral nutrition with growth, development, and positive nitrogen balance. Surgery. 1968;64(1):134-42.
Bengmark S, Ortiz de Urbina JJ. Nutrición enteral: pasado y futuro [Enteral nutrition: past and future]. Nutr Hosp. 2004;19(2):110-20.
Lappas BM, Patel D, Kumpf V, Adams DW, Seidner DL. Parenteral Nutrition: Indications, Access, and Complications. Gastroenterol Clin North Am. 2018;47(1):39-59. doi: 10.1016/j.gtc.2017.10.001
Cederholm T, Barazzoni R, Austin P, Ballmer P, Biolo G, Bischoff SC, et al. ESPEN guidelines on definitions and terminology of clinical nutrition. Clin Nutr. 2017;36(1):49-64. doi: 10.1016/j.clnu.2016.09.004
Cederholm T, Jensen GL, Correia MITD, Gonzalez MC, Fukushima R, Higashiguchi T, et al. GLIM criteria for the diagnosis of malnutrition - A consensus report from the global clinical nutrition community. Clin Nutr. 2019;38(1):1-9. doi: 10.1016/j.clnu.2018.08.002
Gurvits GE. Black esophagus: acute esophageal necrosis syndrome. World J Gastroenterol. 2010;16(26):3219-25. doi: 10.3748/wjg.v16.i26.3219
Dias E, Santos-Antunes J, Macedo G. Diagnosis and management of acute esophageal necrosis. Ann Gastroenterol. 2019;32(6):529-540. doi: 10.20524/aog.2019.0418
Worrell SG, Oh DS, Greene CL, DeMeester SR, Hagen JA. Acute esophageal necrosis: a case series and long-term follow-up. Ann Thorac Surg. 2014;98(1):341-2. doi: 10.1016/j.athoracsur.2013.09.023
Gurvits GE, Cherian K, Shami MN, et al. Black esophagus: new insights and multicenter international experience in 2014. Dig Dis Sci. 2015;60(2):444-53. doi: 10.1007/s10620-014-3382-1
Deliwala SS, Bala A, Haykal T, Elbedawi MM, Bachuwa G, Gurvits GE. Acute Esophageal Necrosis (Gurvits Syndrome) Presenting as Globus and Altered Phonation. Am J Case Rep. 2020;21:e926019. doi: 10.12659/AJCR.926019
Choksi V, Dave K, Cantave R, Shaharyar S, Joseph J, Shankar U, et al. "Black Esophagus" or Gurvits Syndrome: A Rare Complication of Diabetic Ketoacidosis. Case Rep Gastrointest Med. 2017;2017:4815752. doi: 10.1155/2017/4815752
Gurvits GE. Nuances in diagnosis and management of acute esophageal necrosis. Ann Gastroenterol. 2020;33(4):440-441. doi: 10.20524/aog.2020.0488
Brar TS, Helton R, Zaidi Z. Total Parenteral Nutrition Successfully Treating Black Esophagus Secondary to Hypovolemic Shock. Case Rep Gastrointest Med. 2017;2017:4396870. doi: 10.1155/2017/4396870
Siddiqi A, Chaudhary FS, Naqvi HA, Saleh N, Farooqi R, Yousaf MN. Black esophagus: a syndrome of acute esophageal necrosis associated with active alcohol drinking. BMJ Open Gastroenterol. 2020;7(1):e000466. doi: 10.1136/bmjgast-2020-000466
Nasser H, Ivanics T, Leonard-Murali S, Shakaroun D, Woodward A. Emphysematous gastritis: A case series of three patients managed conservatively. Int J Surg Case Rep. 2019;64:80-84. doi: 10.1016/j.ijscr.2019.09.046
Riaz S, Kudaravalli P, Saleem SA, Sapkota B. Emphysematous Gastritis: A Real Indication for Emergent Surgical Intervention? Cureus. 2020;12(5):e8106. doi: 10.7759/cureus.8106
Matsushima K, Won EJ, Tangel MR, Enomoto LM, Avella DM, Soybel DI. Emphysematous gastritis and gastric emphysema: similar radiographic findings, distinct clinical entities. World J Surg. 2015;39(4):1008-17. doi: 10.1007/s00268-014-2882-7
Merchea A, Cullinane DC, Sawyer MD, Iqbal CW, Baron TH, Wigle D, et al. Esophagogastroduodenoscopy-associated gastrointestinal perforations: a single-center experience. Surgery. 2010;148(4):876-80; discussion 881-2. doi: 10.1016/j.surg.2010.07.010
Alameri A, Al Hillan A, Museedi AS, Oglah A, Alklhero M, Trammell Velásquez S. Emphysematous Gastritis in the Setting of Chronic Abdominal Pain. Eur J Case Rep Intern Med. 2020;7(9):001749. doi: 10.12890/2020_001749
Rodrigues FG, Dasilva G, Wexner SD. Neutropenic enterocolitis. World J Gastroenterol. 2017;23(1):42-47. doi: 10.3748/wjg.v23.i1.42
Abu-Sbeih H, Ali FS, Chen E, Mallepally N, Luo W, Lu Y, et al. Neutropenic Enterocolitis: Clinical Features and Outcomes. Dis Colon Rectum. 2020;63(3):381-388. doi: 10.1097/DCR.0000000000001548
Aksoy DY, Tanriover MD, Uzun O, Zarakolu P, Ercis S, Ergüven S, et al. Diarrhea in neutropenic patients: a prospective cohort study with emphasis on neutropenic enterocolitis. Ann Oncol. 2007;18(1):183-189. doi: 10.1093/annonc/mdl337
Hsu TF, Huang HH, Yen DH, Kao WF, Chen JD, Wang LM, et al. ED presentation of neutropenic enterocolitis in adult patients with acute leukemia. Am J Emerg Med. 2004;22(4):276-9. doi: 10.1016/j.ajem.2004.02.014
Inga EE, Badireddy M. Neutropenic Enterocolitis. 2021 Aug 11. In: StatPearls [Internet]. Treasure Island (FL): StatPearls Publishing; 2021 Jan–.
Feinberg J, Nielsen EE, Korang SK, Halberg Engell K, Nielsen MS, Zhang K, et al. Nutrition support in hospitalised adults at nutritional risk. Cochrane Database Syst Rev. 2017;5(5):CD011598. doi: 10.1002/14651858.CD011598.pub2
Jebb SA. Incidence and recognition of malnutrition in hospital J. P. McWhirter and C. R. Pennington BMJ 1994; 308: 945-948. Clin Nutr. 1994;13(4):267-8. doi: 10.1016/0261-5614(94)90087-6
St Peter SD, Abbas MA, Kelly KA. The spectrum of pneumatosis intestinalis. Arch Surg. 2003;138(1):68-75. doi: 10.1001/archsurg.138.1.68
Andreyev HJ, Davidson SE, Gillespie C, Allum WH, Swarbrick E; British Society of Gastroenterology; et al. Practice guidance on the management of acute and chronic gastrointestinal problems arising as a result of treatment for cancer. Gut. 2012;61(2):179-92. doi: 10.1136/gutjnl-2011-300563
Porchet F, Bruder N, Boulard G, Archer DP, Ravussin P. Effet de la position sur la pression intracrânienne. Ann Fr Anesth Reanim. 1998;17(2):149-56. doi: 10.1016/s0750-7658(98)80065-8
Villena-Martín M, Valduvievo I, Pinto-Rafael I, Gutiérrez A, Vázquez-Barquero A. Fístula de líquido cefalorraquídeo secundaria a traumatismo medular por cristales: a propósito de un caso. Neurocirugia (Astur). 2012;23(1):36-9. doi: 10.1016/j.neucir.2010.12.001
Méndez-Hernández AZ, Álvarez-Reséndiz G, Álvarez-Reséndiz GE, Pérez-Tagle CC, Klériga-Grossgerge E, Pérez-Mendizábal JA, et al. Parche hemático para el manejo de fístula de líquido cefalorraquídeo postlaminectomía. Revista Mexicana de Anestesiología. 2017;40(4):306–11.
Chauhan R, Bloria SD, Luthra A. Management of Postoperative Neurosurgical Patients. Indian J Neurosurg. 2019;08(03):179–84. doi: 10.1055/s-0039-1698001
Santafé Colomina M, Arikan Abelló F, Sánchez Corral A, Ferrer Roca R. Optimization of the neurosurgical patient in Intensive Care. Med Intensiva (Engl Ed). 2019;43(8):489-496. doi: 10.1016/j.medin.2019.02.011
Pash E. Enteral Nutrition: Options for Short-Term Access. Nutr Clin Pract. 2018;33(2):170-176. doi: 10.1002/ncp.10007
Niv E, Fireman Z, Vaisman N. Post-pyloric feeding. World J Gastroenterol. 2009;15(11):1281-8. doi: 10.3748/wjg.15.1281
Bond A, Lal S. Mistakes in jejunal feeding and how to avoid them. UEG Education 2020;20:17-19.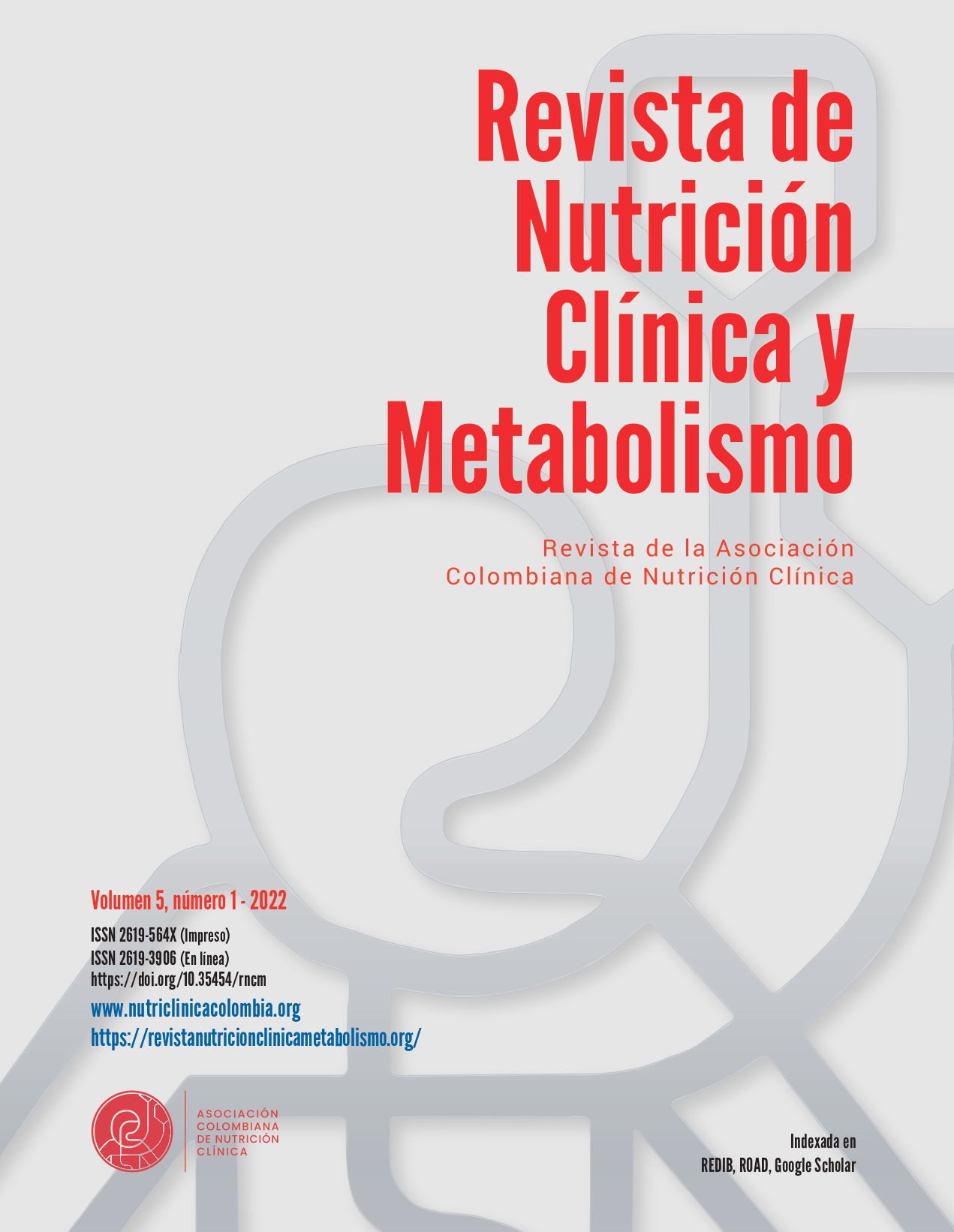 Cómo citar
Navas Camacho, A., & Riscanevo, A. C. (2021). Indicaciones poco frecuentes de nutrición parenteral: una revisión de la literatura. Revista De Nutrición Clínica Y Metabolismo, 5(1). https://doi.org/10.35454/rncm.v5n1.348
Sección
Artículos de revisión
Licencia
Derechos de autor 2021 Angela Maria Navas, Angie Carolina Riscanevo Bobadilla
Esta obra está bajo una licencia internacional Creative Commons Atribución-NoComercial-CompartirIgual 4.0.